Step right up, step right up! The greatest show in Rathe is coming to a town near you! Everfest is a supplementary booster set, designed to expand constructed with new cards for every hero in the game.
Within the bustling grounds of the Everfest carnival, all fashion of performers, peddlers, and frolicking fun is to be found. Will you find fun, fame, or good fortune in the carnival slot of your Everfest booster pack… or perhaps take center stage and become the star of the show?
---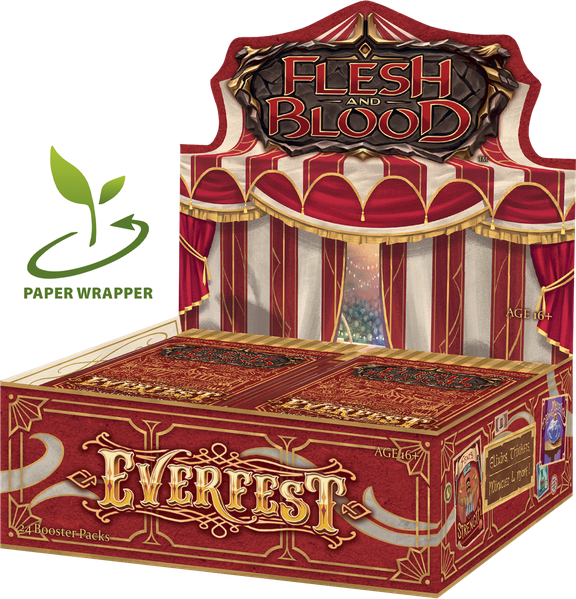 ---
Overview
Release date: February 4, 2022
Product type: Supplementary Booster Pack (Designed to expand constructed play. Not intended for booster draft or sealed deck play.)
Cards in set: 198
MSRP (Display): $99.90 USD/ $129.90 CAD / $144.90 AUD / $144.90 NZD / €99.90 EUR
MAP: MAP information available here.
Barcodes:
First Edition Booster Pack: 09 421905459587
First Edition Display (24 packs): 09 421905459594
First Edition Carton (4 displays): 09 421905459600
Set Configuration:
1 Fabled
3 Legendary
45 Majestic
61 Rares
88 Commons
Pack Configuration:
A booster display contains 24 booster packs. A booster pack contains 10 cards, being:
Premium Foil – 1 per pack (Rainbow Foil or Cold Foil)
Rare or higher – 2 per pack (1 Rare/Majestic/Legendary)
Common – 7 per pack
Product Design: James White
Development: Jason Chung, Newsun Zeng, Karol Ruszkiewicz, Jacob Pearson
Development Contribution: Chris Gehring, Sasha Markovic
Product engineering: Chris Gehring
Creative Director: Robbie Wen
Concept Lead: MJ Fetesio
Concept Design, Asset rendering: MJ Fetesio, Sam Yang
Art Director: Robbie Wen
Assistant Art Director: MJ Fetesio, Sam Yang
Packaging: Sam Yang, MJ Fetesio
Productions & Manufacturing Lead: Robbie Wen
Productions assistant: Kathleen Fetesio
Foiling: Kathleen Fetesio, MJ Fetesio
Foiling Assistant: Le Vuong